Online Trading Software for broker-dealers
From client onboarding to execution and post trade compliance
ETNA Trader is a broker trading software platform. ETNA's mission is to democratize online trading technology and empower financial services businesses and WealthTech startups with the powerful broker trading software platforms.  High IT costs have long rendered modern broker trading software platforms inaccessible to small and medium-sized firms and deep discount brokerages firms. ETNA's broker trading software platform is set to change this paradigm.
Whether you are a small startup or a trading executive at a bulge-bracket firm, our pay-per-use pricing plans are extremely flexible. Our trading software is made by a team of talented software developers who have created world class broker trading software platforms for major investment banks, trading firms RIAs and online brokerage houses since 2002.  ETNA Trader is the brainchild of this knowledge capital, coded into one intuitive web trading platform, complimented with the exceptional customer support and convenient pricing.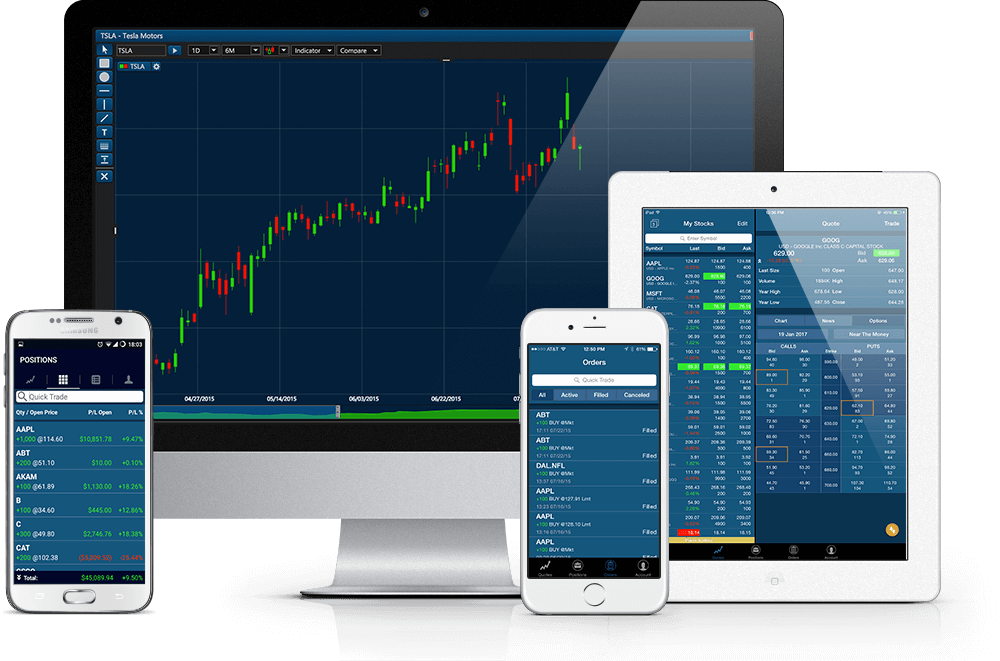 Private label ETNA trading software - fuel your business
The most advanced broker trading software platform combines the ease of access and ability to make investment decisions wherever you are.
Every broker-dealer has specific requirements to their broker trading software platform. ETNA Trader is flexible to fit your business needs. Integrate 3rd party trading tools that will differentiate  your business or create your own dashboards using Widget Designer. ETNA helps online broker-dealers to:
Reduce high IT costs and enjoy the latest and greatest in FinTech at the same time.
Stay competitive by offering a modern product to your clients.
Launch new services and products and grow business faster.
Focus on the core business, taking away the pain of managing an IT department.
Modern Broker Trading Software Platform
Technology has changed the electronic trading industry immensely. A new generation of self-directed investors and traders require a new tool set. Mobile and cloud trading software platforms are becoming a must and an important entry point to get new clients. ETNA Trader is easily accessible from any device via web browsers eliminating software downloads, installations and updates.
No hassle of downloading and installing software
Always up-yo-date secure environment
Trade from any device that has a web browser
Easy maintenance for brokers and trading firms
Powerful mobile apps optimized for the best trading experience.
Take advantage of the ETNA Trader complete suite or handpick the components you need
ETNA Trader offers a set of Trading APIs for broker trading software platforms and digital advisors. It is a well documented comprehensive technology, lightweight and extremely integratable with other systmes.
ETNA Trader scales as demand grows. Founded on the most advanced web technologies and hosted in cloud ETNA's broker trading software platform easily adapts to any IT environment.
Pick a market data provider, execution venue and clearing house that you are comfortable to work with. Or, take advantage of an array of reliable pre-integrated vendors. The choice is yours.
Flexible pay-as-you-go pricing plans are aligned with our clients business model and growth strategies. We offer affordable usage-based pricing and open to discuss alternatives.
ETNA's broker trading software platform is multilingual and currently supports English, Chinese, Spanish, Japanese and Russian. New languages are easy to add. Explore new markets or go global with ETNA Trader!
Your imagination is only the limit while using ETNA's Widget Designer and REST API. Connect to a plethora of 3rd party trading apps. Got a great tool for trading? Send us a message to see if your app can be added into our Widget Store.
ETNA Trader provides 24/6 email support. Our in-house support specialists are well trained and ready to help if any questions or issues. Focus on business activities while ETNA takes care of the technology side.