Online Trading Terminal for Broker-dealers
White Label Online Trading Terminal for brokers by ETNA provides a cutting edge trading technology for online broker-dealers. Streaming quotes and charts, Level II and price alerts combined with a responsive layout allow your online brokerage to stay competitive in a fast changing world of online investing. ETNA Trader is an online trading terminal for the next generation of online broker-dealers and trading firms. Built on HTML5 technology, ETNA Trader frontend has the perfect combination of advanced features and usability. From one screen to a dozen, our online trading terminal adjusts to any number of displays.
Easy interface customizations, modern open APIs to integrate 3rd party trading tools and platform accessibility from any web browser, - these are the things that matter for modern online traders. ETNA Trader is a "trading browser" within a web browser. Step into the future of online trading with ETNA's online trading terminal for brokers!
Why ETNA's Online Trading Terminal?
White Label.  Seamlessly add your logo, create custom design themes and pick the language for your online trading terminal. Create sub-instances, trading groups and companies within your trading platform. ETNA Online Trading Terminal was designed to be a 100% white label software. It is intuitive and easy as 1-2-3 to add you brand and customize the setup to reflect your firm's identity.
Customizable. Create  and save unlimited custom dashboards and widgets with ETNA Trader.  Use our comprehensive API and Widget Designer module to connect to 3rd party web trading tools and create unique trading experience for your traders. Zero programming skills required.
Mobile Trading Terminals. We believe in "mobile first" experience, so we created state of the art mobile apps for iOS and Android devices, including an AppleWatch app for the ultimate control and trading on the go. All mobile apps are seamlessly synchronized with the online trading terminal in real time.
Data agnostic. Use one of pre-integrated connections or pick your own preferred partners market data vendor, custodian and execution venues. ETNA is an independent technology provider. All our software is  a proprietary technology developed in-house. Our expert technical team and support will handle the integrations and guide you through a certification process if the need be.
Broker Back Office. Centralized user management module with cloud back office to control every aspect of your brokerage business in real time. Web-based and available from anywhere where the Internet connection exists.
Online Trading Simulator/Paper Trading Mode. Enhance team skills, test strategies, launch online trading competetitions and train people with an online trading simulator.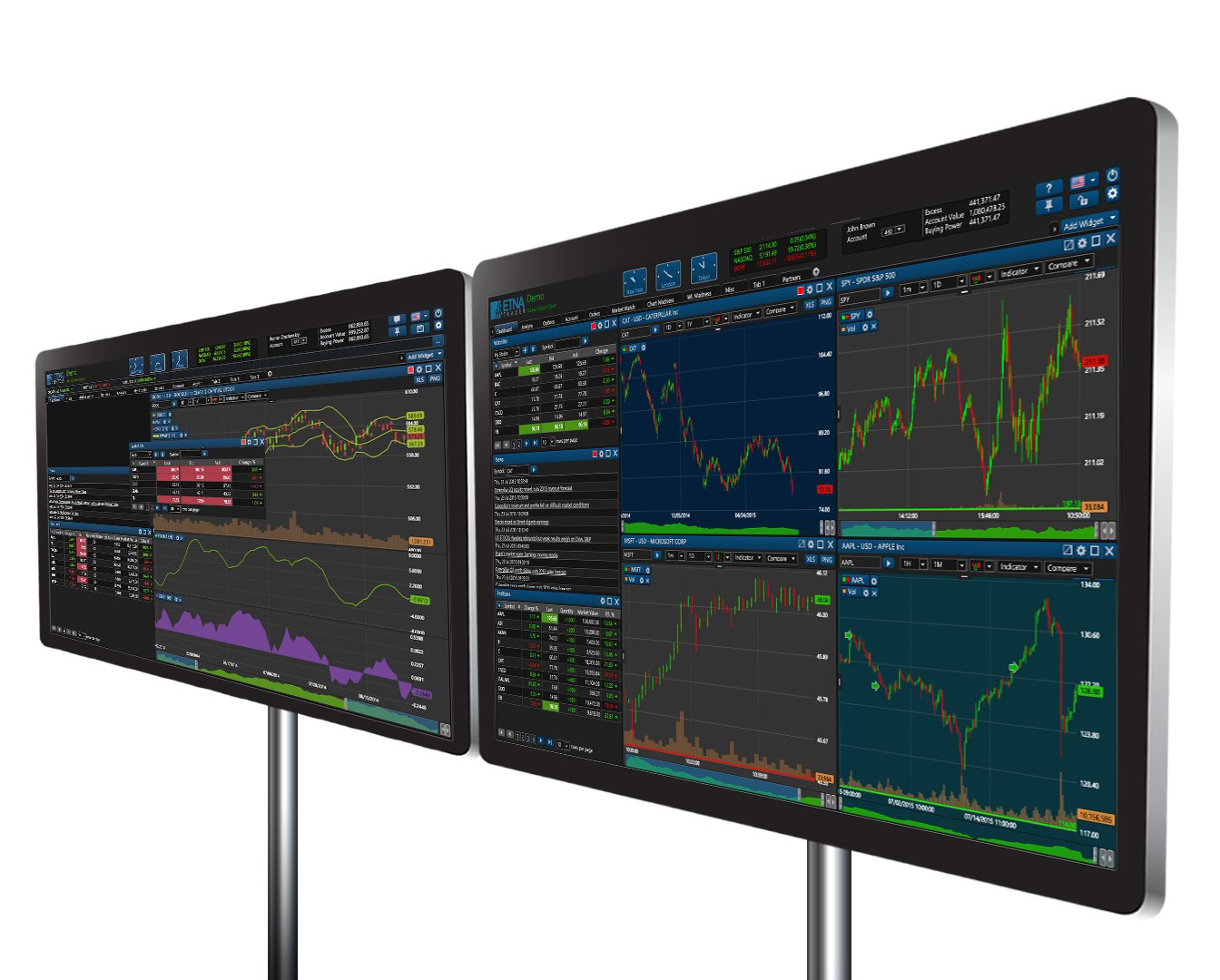 Automate Back Office Operations
Web-based back office gives admin users control over every aspect of their professional trading terminal in real time. Permissions can be granted to pre-defined groups or individual accounts.
Edit and place trades for users
Change user margin requirements
Set trading permissions with a securities master database
Define items for attention to approve or disapprove trades before they're sent for execution
Route individual user orders to preferred destinations
Online Trading Terminal Features