Back to School: the great tools for stock trading and where to find them
Autumn is approaching and that means kids, college students and many others will be heading back to school. Even if your official school years are far behind you, it is always a great time to learn new skills like stock trading and brush up your skills with a stock trading simulator.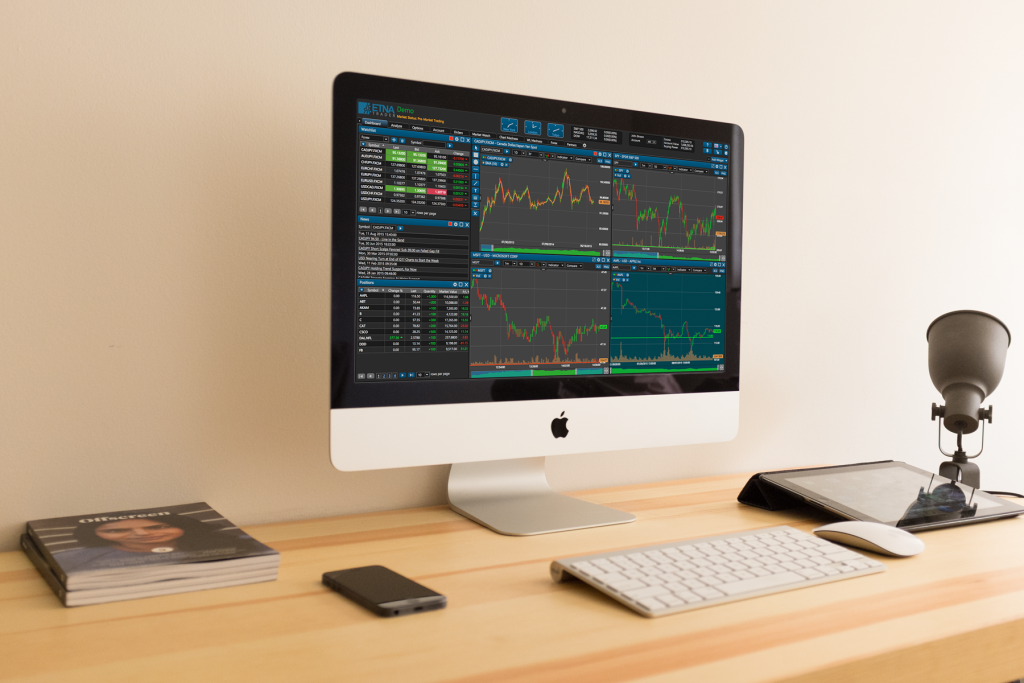 This is especially true for active investors, and those working in investor education. Markets are fast changing, technologies constantly evolve, and the strategies that are making you money today might not work so well in the near future. Add in increasing risks of a recession and now is the perfect time to get ready.
Let's look at how anyone can gain valuable experience and test investing strategies even if they don't have money to invest right now.
Using Trading Simulator to Gain Experience
When it comes to practicing stock trading, there is an easy way to gain experience without risking money: use simulated, virtual trading software. This software also known as paper trading software. Such software will emulate real stock market conditions and may even provide real-time or slightly delayed market data allowing students and other investors to invest virtual money.
Where to find a stock trading simulator?
Online brokerages offer trading simulators as a "try-before-you-buy" sales strategy. If you don't hold a live account with the brokerage firm, such simulators are often restricted in time and/or features.
Online Trading Schools and Educators will most likely provide you with a stock trading simulator. However, access is often part of a subscription or a bundled package. It may also be tailored to a specific strategy of an educator or a specific asset class.
If you are a student at a college or university, you may be able access a trading simulator platform as part of a curriculum. Professors and college administrators are working hard to find an appropriate demo trading software for their students.
Check trading platform developers. ETNA is offering a stock trading simulator as a demo. Features include mobile apps access, simulated level II and options trading. For trading educators and colleges ETNA Trader offers a white label offering with branding, personalization, real-time data and simulated back office with user management, performance monitoring and gamification elements. 
When picking a stock trading simulator pay attention to the following factors:
Is it web or desktop application? Does it have a mobile access?
What data is in there? Is there a delay in stock quotes?
Is the same software available for real-time trading? Once you worked out your trading style and tools, it will save you time to use the same tools and set up for live trading instead of changing the platform.
Can you personalize trading dashboard?
Are there any extra purchases involved? Financial data is expensive and costs add up quickly. Check in advance what data you need and what are the prices.
Trading Ideas and Strategies
Once you found and configured stock trading simulator tools, it's time to learn some new strategies and insights, and then to put them to work. How about acquiring new insights? Check out the options below.
Using Books to Gain Trading Insights
You would think that many of the world's best investors would want to keep their trading strategies secret. However, many are more than happy to share their insights. There are tons of books on how to invest in capital markets. We selected a few of the best below.
The New Market Wizards: Conversations with America's Top Traders. This book makes for a great summer read or addition to your autumn class readings, because it contains tips and insights from a large number of top traders. You get to see how a mind of a successful trader works and how they approach decision making. Along the way, you can copy their strategies, or develop your own
Most of the names won't be familiar, unless you follow the world of finance closely. However, make no mistake about it, many of the people interviewed in this book are among the most successful in the industry.
Beating the Street (by Peter Lynch). Between 1977 and 1990, Peter Lynch was able to secure average annual returns of nearly 30 percent. This was roughly double the growth enjoyed by the S&P 500. Starting in the 1990's, Lynch shifted more of his time towards publishing and education. In 1993, he released "Beating the Street", a seminal investing book everyone should read.
Want something a bit more recent and expansive? Check out Lynch's "The Intelligent Investor: The Definitive Book on Value Investing. A Book of Practical Counsel". This book is one of the best and arguably most definitive guide to value investing.
The Internet Offers a Wealth of Knowledge Too
Not into reading books? Already have enough on your plate this fall? There are tons of great investing websites. You can check out "Investopedia" and learn about a huge range of topics, strategies, and other insights. Or, you can head to more specialized sites.
Many professors and educators are now encouraging their students to leverage the technology that we have right now. Books can get expensive and you'll hear only a limited number of views. On the web, you can expose yourself to far more strategies.
Determining which strategies will work and which ones are right in a given situation or for a specific person is a far different matter. Reading and watching videos is great and all but at the end of the day, markets will determine success or failure.
Hands on Coaching Can Work Wonders as Well
Another great option for anyone looking to brush up on their investing skills or to be exposed to new ideas is online coaching. There are also live coaches who can provide hands on training and offer insights from their own experiences.
Virtual coaching platforms also may offer trading simulators where much of learning is automated, but still customizable to learners' unique preferences. This way you can learn at your own pace.
No matter where you are in your life- a manager, a student, a college professor, a stay-at-home mom or just a curious person looking to learn new skills- learning how to invest online is both possible and affordable.
From paid courses to books that you can take from the library and free stock trading simulators, it has never been easier to get into trading or to put some real world experience under your belt with paper trading software.
Contact us to learn how we help offline and online educational organizations to raise a new generation of smarter self-directed investors.