Broker trading software as a service with web and mobile access. ETNA Trader is the next generation of online stock trading platforms for broker dealers, RIAs and digital advisors. It features white label web trading frontend, mobile apps, middle and back office and a stock trading API. ETNA Trader supports equities and options trading, ETFs, fractional shares trading. Customizable white label platform is distributed as platfom-as-a-service and connects via API to execution venues, custodians, analytics and market data providers. ETNA Trader features digital account opening and funding and comes with regular updates and technical support.
25% of Barron's Best Online Brokers private labeled ETNA Stock Trading Software
Why ETNA Broker Trading Software?
Whether you are a growing online broker-dealer looking to upgrade trading infrastructure or setting up a new online broker, ETNA trading software platform is the right choice.
Modern broker trading software as a service with innovative pricing plans and exceptional customization opportunities to stand out from the competition. Convenient usage-based pricing converts client-vendor relationship into a mutually beneficial partnership.
Advanced technologies and vast experience in online trading industry ensure smooth transition from previous systems and can be deployed within days.
Many of our tech experts are traders too, so they know how to create the best online stock trading experience. Our broker trading software has been featured in WSJ Barron's Best Online Brokers Rating, Investopedia, Benzinga and American FinTech Awards.
White Label Broker Trading Platform
Add you brand, set up rules, pick design, localization, data partners and asset classes to trade with a click of a button. ETNA Trader is a 100% white label broker trading software, no strings attached. Designed with clients first approach ETNA Trader platform allows infinite capabilities for branding and customization, so that your business could stand out in the crowd.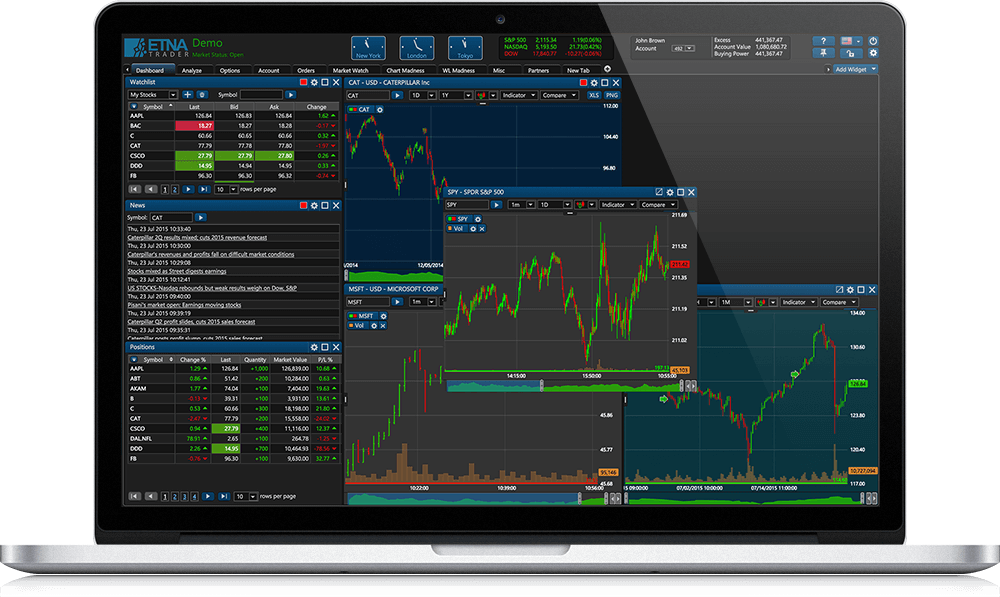 All-in-One Broker Trading Software
ETNA Trader is an all-inclusive solution, a one stop shop to cover all the needs of a modern online broker-dealer. From digital onboarding to execution, compliance reporting and risk management, ETNA has it all. Wide range of APIs and stock trading software components allows to build a trading platform within days.
Customizable Broker Trading Solution
Over decade of expertise developing software for capital markets and industry recognition allowed us to build a versatile stock trading engine that is both rich in functionality and customizable. Use APIs and your own tech resources to customize the platform as a self-service approach, or hire one of ETNA's expert to build a unique stock trading software using ETNA as a solid foundation.