Most of people who use "broker-dealer" term have little understanding what does it mean and what is involved to become a broker-dealer.
Broker-dealer must hold a license and to do that he must complete 28-pages uniform application for broker-dealer registration. This application asks certain questions like: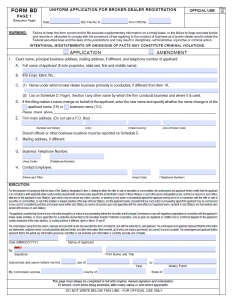 Who are principals?
Who will be CEO and CFO?
Will the broker-dealer be a market maker?
What is the tax ID number?
Where the main office will be located?
Who will be self-regulatory organization?
Will broker-dealer accept checks from client?
What security types broker-dealer will deal with?
The completed application is sent to the Security Exchange Commission (SEC), where it is reviewed and if everything is ok, the license will be issued.

Individuals who trade for their own accounts on the trading floor and the largest investments banks – all are considered to be broker-dealers. It's very wide term, there are a lot of different types of broker-dealers:
Clearing broker-dealer – member of clearing corporation, such as National Securities Clearing Corporation (NSCC) that compares and settles trades against other broker-dealers
Discount broker – offers low commission because does not provide full suite of services
Futures trading firm – trade on the floor of futures exchange
Institutional broker-dealer – offers services to institutions such as hedge funds, mutual funds or trust companies
Introducing broker – uses the services of another firm to clear and settle trades
Online broker-dealer – their clients enter orders via Web. Everything is done electronically.
Market maker – trades certain securities against their clients
Specialist – member of an exchange
And one more thing to be clarified – even the term "broker-dealers" refers to the license ("Form BD"), there is a difference between the "broker" and the "dealer":
Broker purchases and sells securities on behalf of their client, but never trades against the client order.
Dealer holds the position and trades against the public.
Broker-dealer participates in both activities – trade securities for clients and trade securities against the client.
Further details: how is broker-dealer software environment designed, an overview of brokerage regulations in the US.