RESTful OMS API will dramatically reduce the complexity associated with trading securities.
Order Management System API simplifies trade management for portfolio managers, robo advisors and other FinTech firms. Easy to integrate configurable OMS API makes it easy to automate trade submissions, reporting, trade allocations and track order status, positions and account balances. Leverage 10+ years of trading technology experience by using  ETNA OMS API as building blocks for your new or existing software products.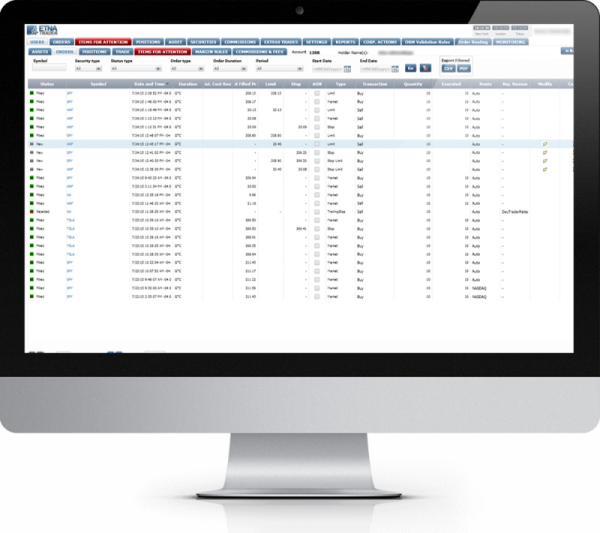 Automate Trading Operations
Monitors and manages trading activity in real time
Maintains positions
Downloads SOD (start-of-day) files from the clearing firm
Receives orders and routes them to the appropriate execution venue
Tracks the progress of each order through its lifecycle
Calculates buying power, margin requirements and account balances of each account in real time
Manages trade allocations
Sends Drop Copies to all appropriate receivers
Uploads EOD (end-of-day) trade files to the clearing firm and reports to regulators
Market Data-, Clearing- and Execution-Neutral OMS 
Infinitely customizable with multiple rule engines
Easy integration  through RESTful API 
Integrated Back Office application to control users, accounts, positions, orders, margins, commissions, execution routes
Supports Multi-Leg Option strategies and their optimization
Trade Allocations, Fractional Shares Support
Virtual Exchange and simulated (paper) trading for educational, demo and testing purposes
Cloud hosted for infinite scalability or deployable on your own servers.
Use best in class ETNA OMS API as building blocks to accelerate the launch of your business and reduce IT costs
Leverage 10+ years of trading technology experience via ETNA OMS API
Extremely intuitive REST-based API compatible with any programming language
Get easy access to integrated real-time level 1 and level 2 market data
Take advantage of custom watch lists, user registration, account mapping and more.